The Best Mini Bluetooth Speakers: Portable Music for Travelers
March 23, 2019

Fettle Club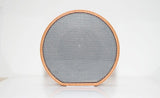 Music is a travel essential. You wouldn't be caught dead on a 10-hour flight without your headphones and a smartphone loaded with your favorite playlist. But what happens when you land and sit on that beach?
Headphones are great for travel, but it's hard to connect with locals and other travelers when you're in your own world. Bluetooth speakers are useful because they are portable, and ensure that you can play your favorite music wirelessly with your smartphone, tablet, or other (mobile) devices with Bluetooth.

Because with Bluetooth you are not dependent on the internet (Wi-Fi), you can listen to your music wherever you are. That makes these speakers also perfect for vacation. Many portable bluetooth speakers are even waterproof, dustproof, and float. So you can also use them on the beach or at the pool.
If you like to blast your music on the move, you have some awesome lightweight options. Here are three of our favorite travel bluetooth speakers to pack for your next vacation:
Mini Mushroom Bluetooth Speaker
This ultra-lightweight bluetooth speaker isn't just built for travel—it's perfect for it. This speaker is so lightweight you can stick it to your phone, or put in in your pocket, and jam out on a run, a bike ride, skating around town, or anywhere else.
The speaker uses the Bluetooth 4.0 technology, and it is compatible with all Bluetooth enabled devices and ensures a strong and stable connection up to 30+ feets away for a skip free music. It can be use with your phones, tablets and almost all Bluetooth enabled devices.
Get this fun and super tiny speaker here.
Smart Wooden Bluetooth Speaker - Sound Box
This wooden bluetooth speaker is heavier than the tiny Mushroom Speaker, but still definitely a travel bluetooth speaker. If you're a heavy speaker user, the extra weight is worth it for the insane battery life. It packs a 12-hour playtime (which is way better than the competition) and features all the high-end extras you'd expect from a more expensive bluetooth speaker.
The tactile volume buttons for changing the volume or put it on the next song are great, so you don't have to dig your phone out of your pocket when you're biking. And the simple direct USB charging means you don't have to bring another cord or charging port. Just plug it into your computer or USB charger, and you're good to go. 
Get this smart and woody speaker here.
Retro Bluetooth Speaker
The atmosphere of the past and the technology of today: this cute little speaker combines the best of both. The audio box works inter alia via Bluetooth, so that you can play all possible music via your smartphone via the retro gadget. From old-fashioned bangers to the very latest hits! No Bluetooth? Then listen to your favorite music via U-disk, TF-card or audio output.

The retro speaker is available in the colors pink, black and blue. Get this cool retro speaker here.